Can the BetaShares Australian Small Companies Select Fund (ASX: SMLL) ASX ETF provide both dividend income and growth?
About ETFs
ETFs are investment funds that are listed on a securities exchange. They can be 'ASX managed funds' or 'ASX index funds', or in other words, active or passive.
Typically, ETFs give an investor exposure to many different shares or assets with a single purchase, offering one of the quickest and easiest methods of achieving diversification. The Best ETFs website has a list of Australian ETFs.
About ASX SMLL
The BetaShares Small Companies Select Fund (ASX SMLL) is an ASX-listed managed fund that aims to outperform the S&P/ASX Small Ordinaries Accumulation Index and provide investors with regular capital growth and income.
The fund provides diversification through a portfolio of 50-100 companies that are typically between the 101-350 largest on the ASX by market cap. This means investors are not being overexposed to the largest 100 companies that they may already hold through other ETFs or superannuation.
ASX-listed companies are screened to identify businesses with positive earnings and a strong ability to service debt. Familiar companies in the portfolio include Ansell Ltd (ASX: ANN) and Iluka Resources Ltd (ASX: ILU).
The largest sector allocation is materials (25%), followed by consumer discretionary (18%) and industrials (14%).
SMLL Performance?
Since inception in April 2017, the SMLL fund has underperformed the index it aims to beat, returning 8.88% per year compared to the index return of 10.76% per year.
The dividends from the SMLL ETF are worth considering with the 12-month distribution yield on 30th June 2019 at 4.9%. Distributions are semi-annual and there are options available for a dividend reinvestment plan (DRP).
The Fees & Some Risks To Watch
The management costs for the Small Companies Select Fund are 0.39% per year, which seems low for an actively-managed fund. However, if the fund outperforms the index then there is an additional fee of 15.5% of the outperformance.
This adds up and most investors would probably be better off in a fund with low or no performance fees.
While the fund has not outperformed the index since inception, it has slightly outperformed in the last 12 months (2.92% compared to 1.92%).
Besides the fees, investing in smaller companies tends to come with increased volatility and sometimes weaker balance sheets. Hopefully, the SMLL ETF's screening methods can eliminate the weaker performers.
What Now?
The return over the last 12 months has been very low, despite a double-digit return in the last six months. This goes to show just how volatile the ETF can be, and with a short track record and high-performance fees, I think there are better options around.
I'd rather invest in our number one ETF pick below.
How do

you

value an investment?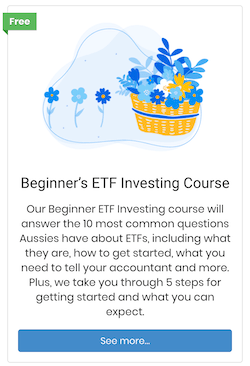 What does your process look like? Do you really understand what you're investing in and why?
You should know, we've just asked our top analyst to put together a FREE valuation course and make them available to investors like you, for a limited time.
Complete with downloadable Excel models, templates and valuation tools, simply click here to access the course.
It's completely free!
---
Disclaimer: Any information contained in this article is limited to general financial advice/information only. The information should not be relied upon because it has not taken into account your specific needs, goals or objectives. Please, consult a licenced and trusted financial adviser before acting on the information. Past performance is no guarantee of future performance. Nothing in this article should be considered a guarantee. Investing is risky and can result in capital loss. By reading this website, you acknowledge this warning and agree to our terms & conditions available here. This article is authorised by Owen Raszkiewicz of The Rask Group Pty Ltd.
Diversification: At the time of writing, Max does not own shares in any of the companies mentioned.