The VanEck Vectors Global Clean Energy ETF (ASX: CLNE) gives investors exposure to a portfolio of 30 companies in the provision and production of Clean Energy.
Clean energy is set to take off, with the solar energy market projected to increase 20.5% per annum to 2026 and wind power to grow at 8% per annum to 2025. Furthermore, more than 200 countries have ratified the Paris Agreement with aim of zero emissions by 2050.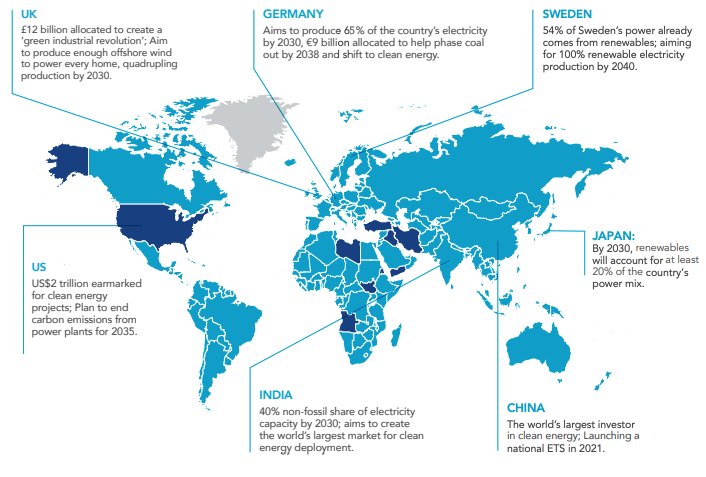 Notable holdings include wind turbine manufacturer Vestas Wind Systems (CPH: VWS) and hydrogen fuel cell producer Plug Power (NASDAQ: PLUG).
ETF Construction
The underlying index – S&P Global Clean Energy Select Index includes companies with involvements in the production of Clean Energy or provision of Clean Energy Technology & Equipment. Clean Energy includes activities in:
Biofuel & biomass
Ethanol and fuel
Fuel cells
Geothermal energy
Hydro-electricity
Photovoltaic cells
Solar energy
Wind energy
Next, each company is scored for exposure to Clean Energy based on primary business activities. Each is given a score from the following table. Additionally, any company with significant carbon-to-revenue footprints is excluded.

The fund then includes the 30 largest companies by market capitalisation with a score of 1 – the maximum Clean Energy exposure.
Geographically the United States (37.4%) has the most holdings, followed by Spain (9.6%), Denmark (9.1%), Canada (8.3%), China (7.8%) and New Zealand (7.8%).
Past performance
The ETF was only listed in March, therefore, has a short performance history. Since its inception its returned 1.73%.
The underlying index has an impressive one-year return of 82.65% and a five-year return of 22.17% per annum.
Fees and risks
With a management fee of 0.65%, CLNE is among the more expensive tactical ETF's.
The ETF is richly valued with P/E ratio of 31.09. However, this is somewhat justified by the growth prospects of the Clean Energy industry.
CLNE is not currency-hedged, meaning fluctuations in exchange rates will affect performance. This is exacerbated by the aforementioned geographic diversification.
My take
Reading through the 30 holdings within the ETF, I struggled to recognise a handful of names. This is positive and negative. It's positive to gain exposure to new industries and companies that are unheard of. Although I personally would want to do more due diligence to know what the ETF consists of.
I would use CLNE in the satellite component of my portfolio to gain exposure to the Clean Energy tailwind.
For further research, check out the Best ETFs full list of Australian listed ETFs.