BetaShares Climate Change Innovation ETF (ASX: ERTH) aims to track the performance of up to 100 leading global companies helping to address climate change and environmental issues.
The ETF includes clean energy providers in addition to companies promoting green transport, waste management, sustainable product development, and improved energy efficiency and storage. Examples of current holdings include:
Beyond Meat Inc (NASDAQ: BYND) which produces plant-based meat alternatives to reduce the environmental impact of traditional farming
Vestas Wind Systems (

CPH: 

VWS)

which develops and installs onshore and offshore wind turbines
DocuSign Inc (NASDAQ: DOCU) which provides on-demand electronic signature software reducing the need for paper and freight transport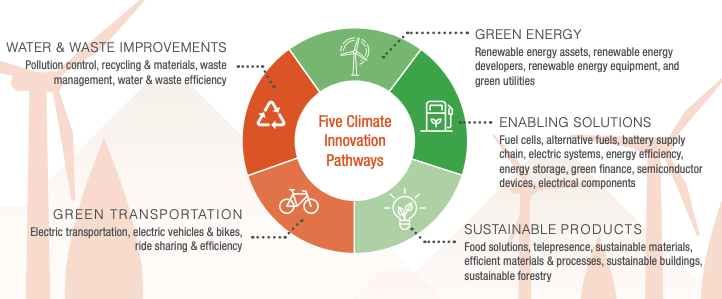 Investment Strategy
To be eligible for inclusion in ERTH, a company must derive at least 50% of its revenue from activities that enable the reduction or avoidance of CO2 emissions within the following climate innovation pathways:
Green energy
Water and waste improvements
Decarbonisation enabling solutions
Green transportation
Sustainable product development
Next, companies that derive revenues in weapons, nuclear energy, oil, coal, natural gas or fossil fuels are immediately excluded as part of a negative screen test.
All eligible companies are then included in ERTH. If there are more than 100 companies that meet the above criteria, the 100 largest (measured by market capitalisation) companies are included.
Performance and benefits
ERTH is an all-in-one solution for investors looking to achieve exposure to a basket of global companies tackling climate change. The ETF can be freely bought and sold on the Australian stock exchange. It provides truly global exposure, with holdings in the United States (39.4%), China (9.3%), France (8.7%), Germany (8.4%) United Kingdom (5.3%).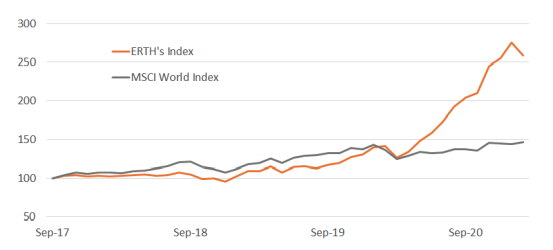 The ETF is only two months old, therefore it has a relatively short performance history. The underlying index (shown above) which the ETF tracks has an impressive one-year return of 87.75% and a three-year return of 34.26% per annum. ERTH pays distributions twice per year to unitholders with a yield of 1.2%.
Fees and risks
ERTH has a management fee of 0.65%, which is in line with other climate-related ETF's on the Australian market. It is not currency-hedged, meaning fluctuations in exchange rates will affect performance. This risk is increased by the aforementioned geographic diversification.
The ETF has a relatively short trading history (begun trading in March) meaning the ETF provider BetaShares is new to managing the inflows and outflows specific to this index. The index states no holding should be above 4% however the ETF currently has four holdings above the 4% weight limit.
ERTH incredible one-year return accounts for a majority of the performance since inception (see above performance graph). Given such a big run-up, I wouldn't expect the ETF to repeat this performance in the short term.
My take
The ERTH ETF would form part of the satellite component of your portfolio. It's a tactical allocation to the climate change megatrend.
I like the diverse range of companies in multiple industries in addition to the relatively low concentration due to holding 100 companies.
However, I prefer ETFs to have at least one year of operating history before investing. I'll be adding ERTH to my watchlist to track over the remainder of the year.
If you wanted to purchase today, be prepared to hold this ETF for at least the next five years to smooth out any underperformance/overperformance.