Index ETF strategies
Index funds are types of ETFs/funds which follow an index. What's an index?
An index is a pre-defined set 'list' of shares, bonds, properties... whatever, really. For example, an ASX 200 index includes the 200 largest shares on the Australian Securities Exchange (ASX).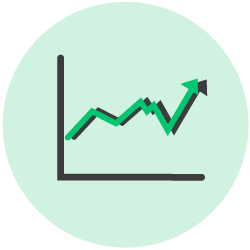 An ETF can track those 200 shares and include them in a portfolio, which you can buy into with as little as $500. The following video explains Index Funds.
https://youtu.be/571P6cDUo-0
When you buy into the index fund, you get exposure to all of the shares or bonds included in the index.
For example, if you invested just $500 in an index fund, the fund manager would go and buy each share in the index after pooling your money with other investors in the fund.
Are all ETFs also Index Funds?
No. Even though the terms "ETF" and "index fund" are sometimes used interchangeably they are not the same thing.
An 'ETF' is like the candy bar wrapper around the fund that's inside. The fund could use a stockmarket index strategy, it could be a bond fund, invest in property, chocolate, etc. The strategy of the fund is what you should focus on.