What the Fees and costs Warning means
When we believe an ETF or fund has a higher-than-average yearly management fee (and/or performance fee), Best ETFs Australia will apply a 'high fee' warning.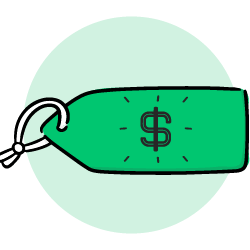 As you can imagine, high fees reduce an investor's return on their investment. That's why most (good) Product Disclosure Statements (PDS) carry this warning:
"Small differences in both investment performance and fees and costs can have a substantial impact on your long-term returns. For example, total annual fees and costs of 2% of your investment balance rather than 1% could reduce your final return by up to 20% over a 30 year period (for example, reduce it from $100,000 to $80,000)."
Please note: we may also apply our fee warning to an ETF or fund for any (or all) of the following reasons:
The buy-sell spread is high -- in our opinion or simply relative to the peer group and alternatives
We believe the performance fee is not reasonable or applied correctly
The indirect costs or allowances made in the fund's PDS are not reasonable
The market-making function is inappropriate (in our opinion)
If you have any questions call the fund/ETF provider, or speak to your financial adviser. If you believe we have made a mistake in applying this label please let us know by getting in contact with the Best ETFs team today.