According to research from the National Bank of Canada, 2018 marked the first year since the Global Financial Crisis (GFC) of 2008/2009 when ETFs were tipped in favour of managed funds. ETF experts believe Australia is set to follow Canada's lead.
The National Bank of Canada research shows that during 2018 a total of around $18 billion was added to ETFs listed on the stock exchange whereas around $8 billion was added to vanilla mutual funds.
However, for context, in the prior five years, Canadians contributed significantly more to their investments than they did in 2018, as this chart from a report created by BetaShares' demonstrates: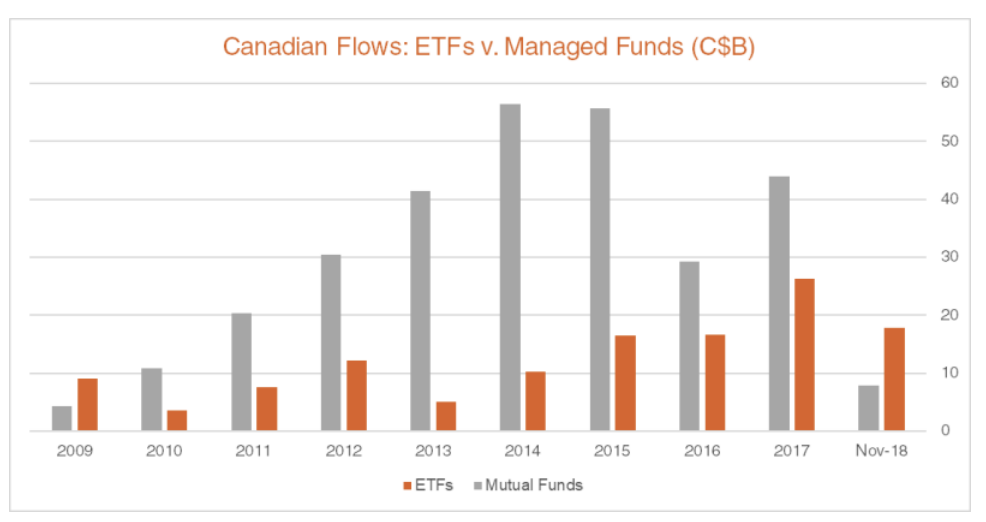 According to BetaShares the trend set by the USA and Canada is what we can expect from ETFs here in Australia.
"The clear trend we are seeing in the U.S. and Canada is very instructive for our local market going forward, which is still some way behind in this regard," BetaShares explained. "If overseas markets are any guide this is likely to change in the future."
This expectation follows yet another record year for Australian ETF issuers, which witnessed a 13% increase to money invested and ended November 2018 with $41.1 billion.
"More investors appear to be recognising the benefits of ETFs, including the ability to diversify portfolios, lower costs and access opportunities in international sectors which have historically been hard for Australians to access," BetaShares co-founder and Head of Strategy Ilan Israelstam said at the time.
More of the same in 2019?
According to State Street's Head of SPDR Americas Research, Matthew J. Bertolini, CFA, the first month of 2019 saw negative flows for equity ETFs, but this is quite normal for this time of year.
"Even with the market's sizeable gains to start 2019, flows into equity ETFs were net negative, pushing the entire US-listed ETF industry into net outflows," Bertolini, CFA, added.
"The outflows are also attributable to cyclical rebalancing: January has brought monthly outflows 52% of the last 20 years—the highest percentage for any month of the year."
In bond or fixed income ETFs, US ETFs added $15 billion in January alone, the third-straight month of $10 billion or more. This is indicative of more investors seeking lower risk exposures, Bertolini says.
"January brought a massive rotation into bond strategies as investors sought the potential defensive properties of fixed income during the recent bouts of equity volatility—the textbook use-case for bonds."
Clearly, the trends for the ETF sector are alive and well, albeit in a bit of a hiatus.
[ls_content_block id="695″ para="paragraphs"]