The BetaShares Global Cybersecurity ETF (ASX: HACK) has been a strong performer since inception in 2016 thanks to its focus on a high growth industry. Could HACK be the best performer in FY2021?
About HACK
The HACK ETF aims to provide exposure to leading companies in the global cybersecurity sector. HACK has 49 holdings in total which span multiple industries and countries. Around half of the ETF is allocated to systems software companies, but the ETF also invests in communications equipment, internet services and infrastructure, IT consulting, and other IT sub-sectors.
While HACK is a global ETF, more than 87% of the portfolio holdings are US-based, with small allocations to Britain, Israel, Japan, France, and South Korea. HACK has funds under management of over $210 million and now has a track record of nearly four years, so the ETF appears to have reached scale and continues to grow.
Why invest in cybersecurity?
Cybersecurity is an area of massive growth and is driven by increased demand from businesses which are relying more heavily on things like cloud computing and protection of data.
According to the Australian Cyber Security Growth Network, the global cybersecurity market is currently worth $173 billion and is projected to grow to $270 billion by 2026. The Australian Bureau of Statistics also released promising data last year which showed that between FY16 and FY18 the percentage of Australian businesses using paid cloud computing services rose from 31% to 42%, and more than half of all businesses with over 200 employees upgraded their cybersecurity software in FY18.
HACK performance
Since inception in 2016, the performance of the HACK ETF has reflected this industry growth. HACK has returned 19.54% per year over the last three years and 27.8% over the last 12 months, recovering quickly from a sharp decline through February and March. Of course, this does not guarantee future returns.
The risks
There are some important considerations to make before investing in HACK. The first is that the management fee is 0.67% per year, which seems small given historical returns, but it is above the market average for ASX ETFs.
HACK has also been quite volatile over the last three years and has experienced a number of sharp declines, the largest of which was earlier this year. This is an ETF that may require a strong conviction to hold over the long term.
For more information on the HACK ETF, you can read our full report here.
How do

you

value an investment?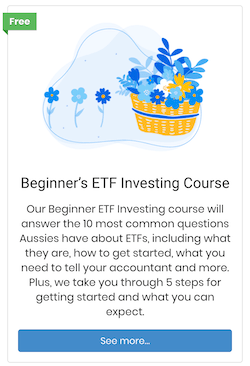 What does your process look like? Do you really understand what you're investing in and why?
You should know, we've just asked our top analyst to put together a FREE valuation course and make them available to investors like you, for a limited time.
Complete with downloadable Excel models, templates and valuation tools, simply click here to access the course.
It's completely free!
---
Disclaimer: Any information contained in this article is limited to general financial advice/information only. The information should not be relied upon because it has not taken into account your specific needs, goals or objectives. Please, consult a licenced and trusted financial adviser before acting on the information. Past performance is no guarantee of future performance. Nothing in this article should be considered a guarantee. Investing is risky and can result in capital loss. By reading this website, you acknowledge this warning and agree to our terms & conditions available here. This article is authorised by Owen Raszkiewicz of The Rask Group Pty Ltd.
Disclaimer: At the time of writing, Max does not have a financial interest in the BetaShares Global Cybersecurity ETF (ASX: HACK).