In this two-part article, I'll take you through my top 10 ASX ETF picks for 2021 covering technology, diversified ETFs, defensive assets, and ethical ETFs.
In no particular order, here they are:
VDHG ETF
The Vanguard Diversified High Growth Index ETF (ASX: VDHG) is perhaps my favourite diversified ETF on the ASX. VDHG is a 'fund-of-funds', meaning it holds other ETFs and managed funds rather than individual shares.
For a low annual management fee of 0.27%, VDHG provides exposure to seven Vanguard wholesale and retail funds, including the Vanguard Australian Shares Index Fund (Wholesale), Vanguard International Shares Index Fund (Wholesale), and the Vanguard Global Aggregate Bond Index Fund (Hedged).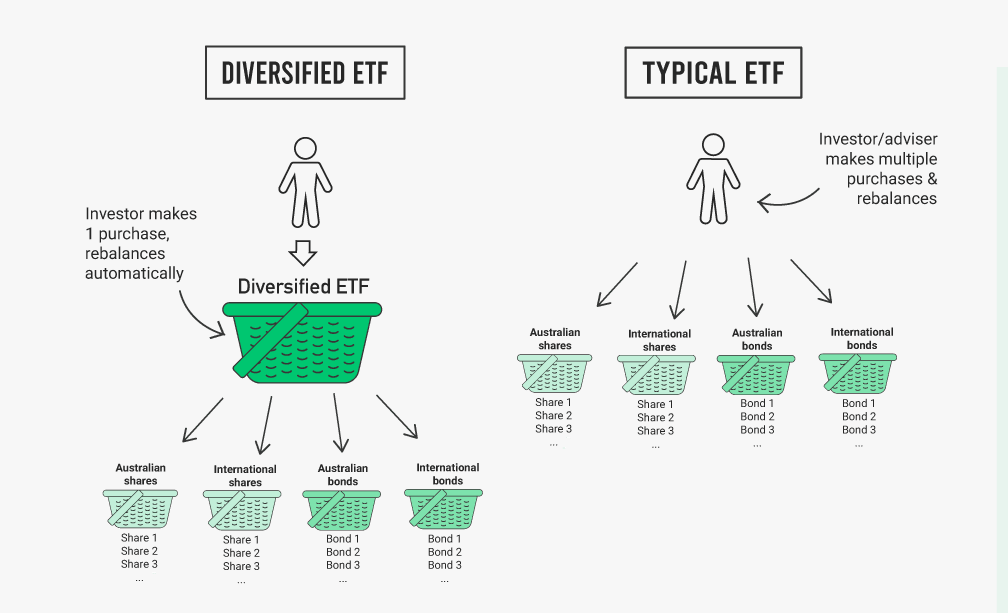 VDHG is a high growth portfolio with 90% growth assets (like Australian and international shares) and 10% defensive assets (like bonds and fixed interest assets). Diversified ETFs are possibly the easiest way to start investing as one purchase gives you access to a fully diversified portfolio, and you don't even need to worry about rebalancing as it's done for you within the ETF.
ACDC ETF
The ETFS Battery Tech & Lithium ETF (ASX: ACDC) is a thematic ETF targeting the battery technology and energy storage megatrend. ACDC follows the Solactive Battery Value-Chain Index which invests with an equal-weight approach across the full battery tech supply chain. This means that the ETF gets exposure to companies across a range of industries from mining, to manufacturing, to electric vehicles and technology.
Lithium batteries are essential in the electric vehicle and mobile device segments and the demand for these products is expected to grow exponentially over the coming decades. Some things I particularly like about this ETF are the equal-weight approach (which reduces overexposure to large caps) and the full supply-chain approach, which can reduce exposure to commodity prices, as price fluctuations have differing (and sometimes opposite) effects on different parts of the supply chain.
Factors I don't love about the ETF include the 0.82% per year fees and the relatively short track record – this ETF only launched in August 2018 so, compared to some of the other ETFs on this list, it is quite new.
ATEC ETF
The BetaShares S&P/ASX Australian Technology ETF (ASX: ATEC) provides exposure to the largest and most promising technology shares in Australia. If you're like me, you've probably sat by and watched as tech share after tech share doubles its share price despite already having seemingly sky-high valuations.
Rather than trying to pick the next winner, ATEC gives broad exposure to all the likely candidates and the existing market darlings like Afterpay Ltd (ASX: APT), Altium Limited (ASX: ALU) and Appen Ltd (ASX: APX).
For a 0.48% per year management fee, you can get access to 50-60 companies covering sectors such as payments, cloud computing, e-commerce, and biotechnology. If you're looking to add a high growth tactical allocation to your ETF portfolio, ATEC is certainly one worth considering in 2021.
ETHI ETF
For those environmentally-friendly investors, the BetaShares Global Sustainability Leaders ETF (ASX: ETHI) is one ASX ETF you should know about. ETHI is a 'sustainable' ETF, meaning it screens companies based on their impact on the environment and society, using environmental, social, and governance (ESG) factors. ETHI takes a global investing approach and applies negative screening to exclude any companies involved in fossil fuels, gambling, tobacco, weapons manufacturing, deforestation, and other harmful industries.
Then, it applies positive screening to identify 'sustainability leaders', which are companies that derive at least 20% of their revenue from beneficial activities like recycling, renewable energy production, and water efficiency. These sustainability leaders are then given preference in the ETF.
ETHI is more expensive than your average global ETF, with a management fee of 0.59% per year. However, the fee might be well worth paying with a return over the last three years of more than 21% per year. ETHI has the potential to generate high long-term returns and is a virtually guilt-free growth option for a diversified portfolio.
HBRD ETF
The BetaShares Active Australian Hybrids Fund (ASX: HBRD) is an active ETF that invests in hybrid securities: assets that have characteristics of both shares and bonds. Unlike the other ETFs on this list, HBRD isn't growth-focused. Instead, it's a defensive and income-producing asset that could be worth considering as an alternative to bonds or term deposits in 2021.
The specific focus of HBRD is a type of hybrid known as a preference share. Preference shares are a type of hybrid that sits somewhere between shares and bonds on a risk-return scale. Like common shares, they are a part-ownership of a business, but like a bond, they pay a fixed or floating dividend. For example, a preferred share may pay dividends set at a rate of 3% above the Bank Bill Swap Rate (BBSW).
The catch is that preferred shares (usually) don't come with voting rights and they don't have the same potential for capital growth that you get from common shares. They are complex financial instruments, but the most simple way of explaining it is that they can provide returns slightly higher than an average bond ETF, but they also come with slightly more risk. HBRD currently has a 12-month trailing gross dividend yield of 3.8%. 
HBRD's active management doesn't come cheap with a 0.55% management fee and a 15.5% performance fee. This ETF isn't for everyone, but for an income-starved investor, it's an alternative worth considering in 2021.
In part two, click here to read it, I go through 5 more ETFs including a new diversified ethical ETF and an alternative to the BetaShares Australia 200 ETF (ASX: A200).