VanEck Vectors Australian Equal Weight ETF (ASX: MVW) is an exchange-traded fund (ETF) that provides exposure to the largest shares listed on the Australian stock exchange.
Equal weight means all companies have the same weighting, regardless of size or market capitalisation. Holdings are rebalanced every three months to ensure no positions become too big or small.
Since launching in 2014, MVW has outperformed the S&P/ASX 200 benchmark by 1.76% per annum while also taking on less risk.
Diversification is key
As a result of the equal weightings, MVW is more diversified than most ASX index funds. Why is this important? Diversification helps reduce the risk of any one holding or sector. Illustrated below is the sector weighting of MVW compared to the ASX 200 Index.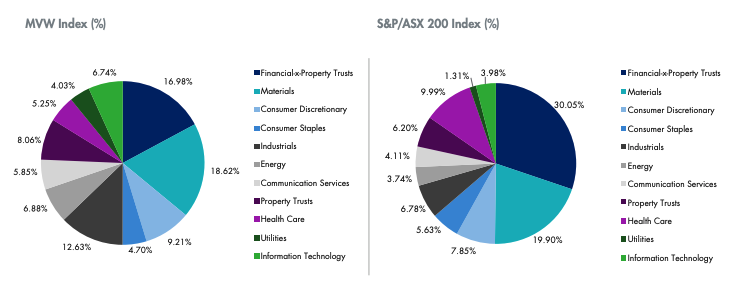 Where Financials and Materials make up 50% of the ASX Index, for MVW it is only 36%. This reduces exposure to the Big 4 banks – Commonwealth Bank (ASX: CBA), ANZ Bank (ASX: ANZ), National Australia Bank (ASX: NAB) and Westpac Banking Corp (ASX: WBC) and the major miners – BHP Group (ASX: BHP) and Rio Tinto (ASX: RIO).
Moreover, it offers better exposure to the Technology, Industrial and Consumer Staples sectors.
Past performance
The ETF has a three-year return of 8.40% per annum and a seven-year return of 9.37% per annum.
As mentioned above, it has outperformed the benchmark S&P/ASX 200 index by 1.76% annum.
If you invested $10,000 in MVW and a friend invested $10,000 in the benchmark index in 2014, you would be $1,976 richer today than your mate.
Dividends are paid twice a year. The ETF has a current dividend yield of 2.35%.
Fees and risks
MVW has an annual management fee of 0.35%.
Relative to Australian Index trackers Vanguard Australian Shares Index ETF (ASX: VAS) and iShares Core S&P/ASX 200 ETF (ASX: IOZ), which have management fees of 0.10% and 0.09% respectively, MVW is expensive.
The ETF only consists of Australian companies therefore investors are not diversified across geographies. Australia consists of roughly 2% of the worlds share market, so there is a lot of other regions to consider.
My take
MVW would form the core of your investment portfolio. For more information on core and satellite investing click here.
Personally, if I wanted a broad-based Australian Index ETF, I would choose MVW. I like its diversification away from the big banks and miners and believe it will continue to outperform the benchmark index.
For further reading, be sure to check out the full ETF report for MVW here.