Investment Strategy
IOZ is a vanilla ETF product with a relatively straightforward investment strategy. The ETF consists of the 200 largest companies listed on the Australian Stock Exchange measured by market capitalisation.
FAIR is a little more complex, tracking the performance of an index that excludes Australian companies with direct or significant exposure to unethical industries or operations.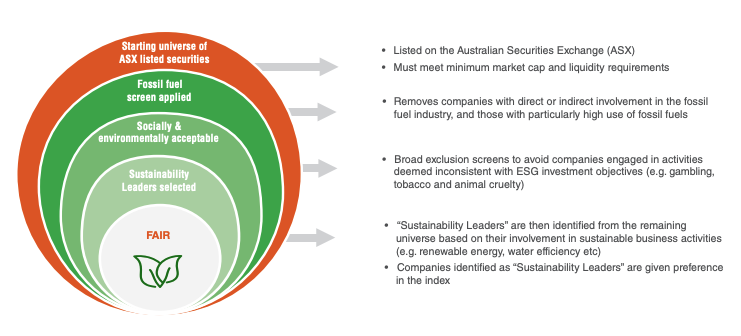 The ETF initially excludes companies with operations in fossil fuels, gambling, tobacco, weapons, animal cruelty, alcohol and boards with zero gender diversity.
From the remaining companies available, "sustainability leaders" are identified. To be classed as a sustainability leader, a company must either:
derive more than 20% of revenue generated from a range of industries including renewable energy, water efficiency, recycling, waste remediation, transport, education, healthcare, social services and social infrastructure or,
recipient of either an "A" or "B" grade rating from a trusted ethical consumer report (Ethical Consumer Guide, Baptist World Aid Behind Barcode) or,
certified B Corporation (B Corp)
To ensure diversification, each sector is capped at 10 companies. Sustainability leaders are given preference before companies from the broader universe.
Performance and benefits
The below graph compares the performance since March 2017 of FAIR and IOZ. FAIR has outperformed IOZ, in addition to falling relatively less when the market slid on news of COVID-19 in March last year.

IOZ has a longer product history than FAIR. Over the past ten years, IOZ has returned 8.55% per annum.
IOZ pay distributions to holders every three months and has a trailing yield of 2.01%. FAIR distributes only every six months but has a higher yield of 2.5%.
Financials (30.5%), Materials (20.1%), Health Care (9.9%) are the three major sector weightings within IOZ. Conversely, FAIR major sector weightings are Health Care (25.4%), Real Estate (19.0%) and Financials (17.0%)
Fees and risks
FAIR charges an annual management fee of 0.49% compared to an annual management fee of 0.09% for IOZ.
This may not seem much of a difference in the short run, however the 40 basis point difference in fees each year adds up over time.
Below is a chart illustrating if you were to invest $10,000 into both FAIR and IOZ today, what the closing balance would be in 2051. For simplicity, each ETF is assumed to return 8% per annum for 30 years.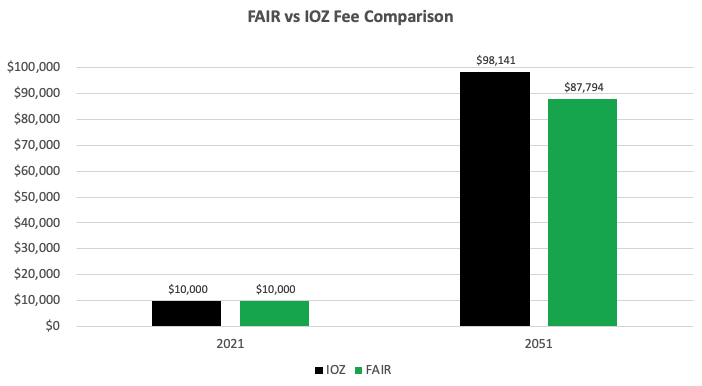 In 2051, the IOZ closing balance would be $98,141 and the FAIR closing balance is $87,794. That's a difference of $10,347!
Both ETFs focus on Australia (2% share of global markets), therefore, underrepresenting the remainder of the worlds. To gain exposure to the other 98% of world markets, investors will require ETFs, which have a more broad geographic mandate.
My take
Personally, I prefer IOZ primarily for its lower management fee. For a broad ethical Australian ETF, I prefer Vanguard Ethically Conscious Australian Shares ETF (ASX: VETH).