Bendigo and Adelaide Bank Ltd (ASX: BEN) shares are falling today even though it recorded bumper FY21 profits.
BEN share price

Credit provisions underline profit growth
Total income across the company rose 4.5% to $1.7 billion, led by an increase in its agribusiness and business divisions.
Cash profit increased 51.5% to $457.2 million, however, this was primarily a result of unwinding credit provisions.
In the depths of COVID-19, banks including National Australia Bank Ltd (ASX: NAB) and Westpac Banking Corp (ASX: WBC) reserved funds for potential defaults across its lending customers.
For the most part, this did not eventuate due to government stimulus and central bank intervention. Therefore, banks across Australia are now releasing the provisions as profits to shareholders.
The company will pay a 26.5 cent dividend bringing full-year dividends to 50.0 cents fully franked. This values Bendigo Bank on a 7% grossed-up dividend yield.
Market share rises on above sector growth
Lending growth increased 10.6% in FY21 or 3.8x the sector average. Similarly, deposit growth increased 12.5%, or 1.7x the system average.
This led to an increase in market share of 17 basis points, from 2.24% in 2020 to 2.41% in 2021.
For comparison, Commonwealth Bank of Australia (ASX: CBA) recorded 3.0x business lending and 1.2x deposit growth above system average.
Bendigo's net interest margin (NIM), decreased 7 basis points to 2.26% due to higher fixed rate lending and competitive pressures.
The NIM is crucial to a banks profitability. In simple terms, it is the difference between what the bank pays on deposits and what it receives as interest on its loans.
For more analysing banks, check out head honcho Owen explaining CBA's result below.
Up acquisition
The company also announced the acquisition of digital banking disruptor Up for $116 million.
Up bank is the number one mobile-only banking app in Australia. The company has over 400,000 customers with a large skew towards customers in their 20's and 30's.
My take
The company did not provide any concrete guidance numbers, likely contributing to the sell-off in shares this morning.
I like the acquisition of Up as it enables Bendigo to market its lending and home loan products to a younger population. More than 30% of active Up customers are saving for a home loan.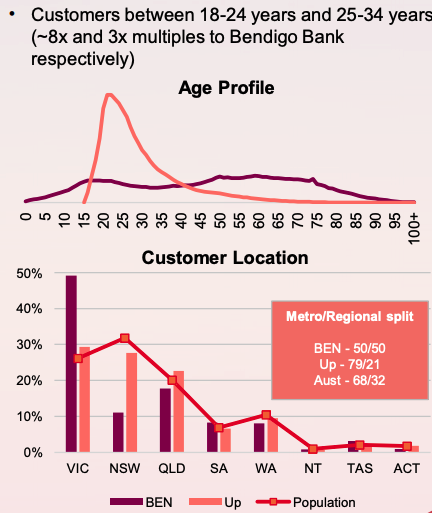 The 7% gross dividend yield is also attractive and only represents a 58% payout ratio. This infers there is further upside to payout profits, or at the very least shield the dividend going forward.
To read more, I'd recommend signing up for a free Rask account and accessing our full stock reports. Click this link to join for free and access our analyst reports.