Last week, the BetaShares Crypto Innovators ETF (ASX: CRYP) launched on the Australian Stock Exchange.
It's the first cryptocurrency exchange-traded fund (ETF) available to Australians, with more expected to be released in near future.
Here's you're two-minute guide to the ETF, and why it may deserve a spot in your portfolio.
Crypto 101
Dogecoin? Bitcoin to the moon? Crypto is going to eat the world?
It's all a bit overwhelming to begin with.
In simple terms, cryptocurrency – often abbreviated to crypto – is digital currency.
Unlike traditional fiat currencies like the Australian or US Dollar, there is no central authority like a government or bank.
Instead, it's decentralised. The currency is processed, exchanged and administered over a blockchain for everyone to see.
The currency, coin or token is generated by a mathematical process called cryptography. Cryptography was first used by the Egyptians around 1900 BC.
The benefits are widespread including reducing fees from intermediaries such as banks, real-time transfers anywhere with an internet connection and an inability for one central authority to control (and increase) the money supply.
However, the asset class is extremely high risk. It's relatively early-stage, has high volatility, and is yet to be properly regulated or adopted by most nations.
For a more in-depth education on crypto, check out this handy guide.
Accelerating adoption
The adoption of cryptocurrency is accelerating rapidly, particularly over the past 18 months.
For example, after initially resisting to provide guidance, the Australian Securities and Investment Commission has approved certain cryptocurrency funds.
Moreover, the Commonwealth Bank of Australia (ASX: CBA) this month announced it will offer customers the ability to buy, sell and hold crypto assets, directly through their app.
Whether you believe in crypto or not, it seems more and more investors are adopting the asset class.
Picks and shovels
It's famously heralded that many of the miners that panned for gold seldom made any money.
However, it was the picks and shovels sellers that made the lions share of profit.
It's a similar story for CRYP. The ETF does not directly invest in cryptocurrencies such as Bitcoin or Ethereum.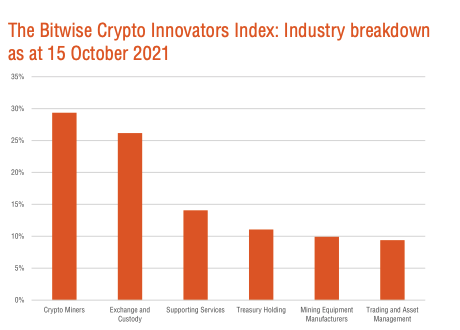 Instead, it invests in cryptocurrency infrastructures such as exchanges, miners, software and other companies involved in the crypto space.
Notable holding includes the first public crypto miner Hive Blockchain and exchange Coinbase Global.
Nitty gritty
The CRYP ETF tracks the Bitwise Crypto Innovators Index. The fund holds 32 companies, mainly based in the United States.
The management fee is 0.67% per annum. So if you invest, $1,000 your total fees for the year would be $6.70.
CRYP is still relatively young, and therefore only has $105 million assets under management. However, expect this to grow as the fund gains broader traction.
My take
It's great to see a crypto ETF for investors who want exposure to the asset class without needing to set up a new brokerage account.
I think CRYP would make a suitable ETF for the satellite component of a portfolio.
For more on ETFs and portfolio construction, check out DIY guide to building an ASX share portfolio.