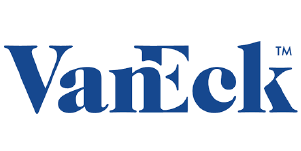 VanEck was founded in 1955 as a specialist global investing business. Despite only launching in Australia in 2013, VanEck has grown to become one of the largest ETF issuers, both by the total number of ETFs issued and the amount of money invested (known as Funds Under Management or FUM).
Around a decade after being founded by John C. van Eck Jr in New York, VanEck launched the first gold fund. Today, VanEck offers ETFs in the Australian Shares, Global Shares, Australian Bonds and Commodities sectors.
Vaneck (ASX:GRNV) ETF. For a diversified portfolio of sustainable Australian companies, the VanEck GRNV ETF may be of interest. This ETF focuses on Australian companies that have high environmental, social and governance (ESG) performance, based on MSCI ESG Research. GRNV has been certified by the Responsible Investment Association Australasia (RIAA), as part of the Responsible Investment Certification Program.