Dividend Reinvestment Plans (DRP) Explained
A distribution reinvestment plan, or DRP, for ETFs & managed funds, is the same thing as a dividend reinvestment plan for shares. View our tutorial: ETF distributions explained.
Let's say you own an ETF that aims to pay 2% of your investment back to you once per year.
If you have $100 invested, instead of collecting the distribution (2% or $2) in cash to your bank account you can elect to have the $2 reinvested automatically. This can help the value of your investment compound higher over time.
How to select a DRP for an ETF
How do I select a DRP for my ETF? The video explains everything you need to know about share registries and the basics of getting a DRP set up. Keep reading below for the exact steps.
Follow these steps to get a DRP for your ETF:
Make sure a full or partial DRP is offered by your ETF. Not all ETFs offer DRPs, but you can use the Best ETFs Australia list of ASX ETFs (opens in new tab) to find your ETF, click to view the report, and see if a DRP is available (on the ETF's report page, scroll down to 'dividend information'.

Using the Best ETFs report page for your chosen ETF (e.g. ASX:VAS), identify which "share registry" is being used. Note: The share registry, like Computershare or Link Market Services, is the company that manages your ETF tax info, DRP status, whether you want your investing docs emailed or posted to you (tip: select email – it's easier), and voting rights. See our tutorial: keeping on top of your investing paperwork.

Log into your share registry account

using the paperwork that was sent to you

. This will include a number after an "X" or "I". An "X" means your investment is CHESS sponsored and held on a HIN (see: what does HIN mean?), while an "I" means you have a Security Reference Number (SRN) and your investment is held as Issuer Sponsored.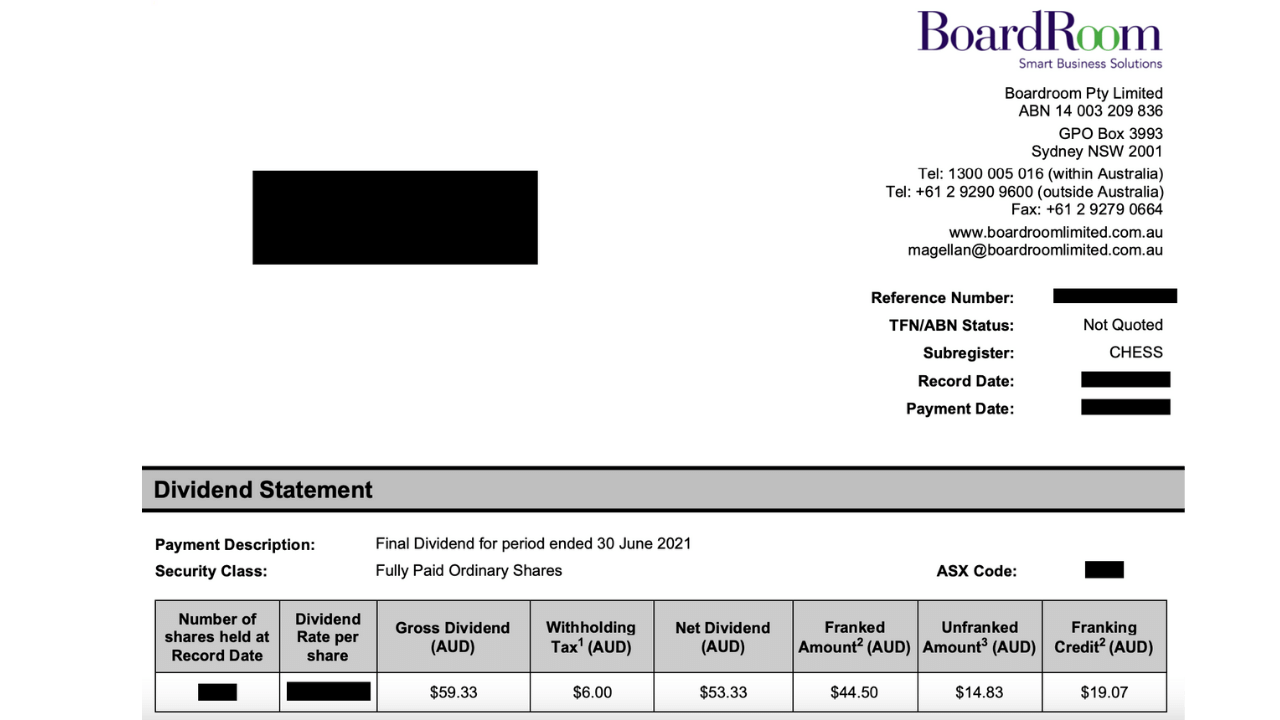 Can't find your ETF holding statements?
If you own ETF investments but can't find your paperwork, follow these steps:
Read PDS of your fund/ETF to find the contact information for your holding
Check with your ASX broker (e.g. CommSec, SelfWealth, etc.) to confirm your ETF holdings & ensure your contact information is up-to-date.
Visit the issuer's website (e.g. Vanguard, BetaShares, etc.) and call them
Contact the ETF's share registry (Computershare, Link Market Services, Boardroom, etc.) for more information.
Are all DRPs the same?
No. DRPs are not always offered by ETF providers & their share registries. Most ETFs will offer either:
Full or partial DRPs – you can select how much of your distribution is reinvested (all, some or none).
Full DRPs – you can only select all or none of your distribution to be reinvested.
Partial DRPs only – these are rare.
No DRP (cash only) – this means a DRP is not available.

Where can I find more information on ETF distributions & dividends?
Take our free ETF investors course to learn more about ETF investing.
Alternatively, view our tutorials on ETF distributions explained, ETF tax domicile explained or start researching with our full list of ASX ETFs.
Does my ETF have a DRP?