Russell Investments RARI ETF (ASX:RARI)
The Russell Investments RARI ETF invests in companies that demonstrate positive environmental, social and governance (ESG) characteristics. RARI also negatively screens out companies that have significant involvement in activities that are deemed inconsistent with responsible investment considerations.
This free report is issued by Best ETFs Australia, a division of The Rask Group Pty Ltd. It is not a recommendation. Speak to a financial professional before relying on this information and please read our Financial Services Guide (FSG).
RARI ETF Fast Facts
Tired of the same ol' dividend stocks?

Russell Investments RARI ETF (ASX:RARI) key information
RARI: Analyst Warning
We apply a generic risk warning to all ETFs and funds that may not have another, more obvious, risk warning applied to them.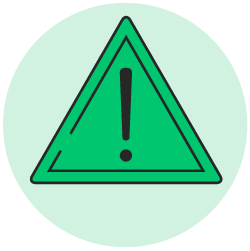 At Best ETFs Australia we apply this warning to all ETFs and funds regardless of their structure, exposure, fees, sector and strategy/type. We want to remind our thousands of readers, clients and members that investing is risky and no ETF or fund is a risk-free investment.
You should always read the Product Disclosure Statement (PDS) and/or speak with a qualified financial adviser before investing in an ETF, product or fund that you do not completely understand. There's a reason we call it "investing" and not "saving" -- that reason is risk.
Tired of the same ol' dividend stocks?

Australian shares sector
The Best ETFs Australian shares sector includes ETFs, managed funds and index funds which cover the ASX and national stock exchange (NSX). It also includes other sharemarket-focused ETFs and funds which may hold investments overseas (e.g. via the New Zealand or US exchanges).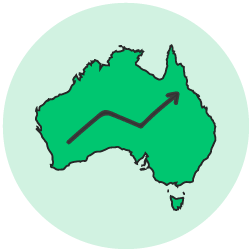 Performance Characteristics
Over the ultra-long-term, the Australian share market has proven to be among the best-performing in the world. We truly are 'the lucky country'.
One of the unique features of the Australian sharemarket is a willingness by companies to pay substantial dividends back to shareholders. We believe this may be a result of Franking Credits.
What exactly does Australian shares invest in?
RARI invests in large Australian companies that align with the fund's set ESG framework and negative screening filters. You could buy all of these companies yourself using a share brokerage account, but that would be a very expensive and time-consuming process.
Sector risks
The Australian sharemarket is heavily skewed towards financials (i.e. banks and insurers), resources and property. These companies tend to be 'cyclical', meaning they move in-line with the direction of the broader economy and financial markets.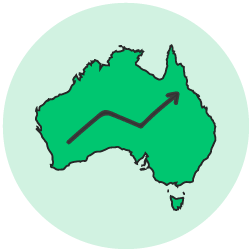 Some risks to investing in this sector include:
Market risk: This is the risk that the performance of the ETF/fund rises or falls unexpectedly day-to-day, month-to-month or even year-to-year. We believe these price movements are unpredictable. Therefore, we believe investing for multiple years is the most prudent way to invest.
Home country bias: That happens when you invest a larger amount of your money in local/Australian investments and exclude overseas markets. This may be because it is 'too difficult' or 'too complex' to invest in overseas markets.
Concentration: The Australian share market is made up of many companies. However, traditional market indices have a very high proportion of their performance tied to just a few investments, such as blue-chip shares in the financial and resources sectors.
Regulatory risk: Australia is a market with a robust financial system. Changes to the rules or laws regarding public investments could alter the performance of ETFs and funds in the sector.
Our expert analyst just named 3 stocks to buy
right now

What you need to know about Russell Investments
Russell Investments is an investment firm and ETF issuer specialising in helping advisers and institutional clients. Throughout the world, Russell manages some $424 billion of assets via its 22 offices (June 2019).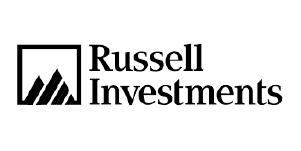 On the ASX, Russell Investments specialise in Australian bond ETFs and has more than $500 million invested in five ETFs.
Potential allocation for RARI
This ETF might be used as part of a 'core' allocation in a diversified long-term portfolio because of its diversified and transparent investment strategy, low costs, risk profile and the expectation of long-term returns.
What is The Core-Satellite Approach?
A core-satellite approach puts investments into two 'buckets' depending on the expected risk and returns.
Bucket 1: Core Investments
The 'core' is the larger part of an investment portfolio and could be reserved for more conservative investments. For example, this might include diversified, low-cost and easy to understand funds, bonds, shares or ETFs.
If you're new to investing, the core is a good place to start.
Core ETFs might include:
Australian shares (index strategies)
Australian bonds and global bonds
Cash
Bucket 2: Satellite/Tactical Investments
The 'satellite' or tactical bucket is the smaller part of a portfolio (e.g. 0% to 30% of your entire portfolio). In this section, investors might decide to take more risk, invest in unique or unproven strategies, buy fast-growing individual shares, etc.
Tactical strategies could be higher risk, higher cost and more complicated strategies that are used in the hope of outperforming the averages (e.g. ASX 200, S&P 500, etc.).
Tactical ETFs might include:
Australian shares (rules-based strategies)
Global shares (rules-based strategies)
Commodity ETFs
Currency ETFs
Cash ETFs
Hedge funds
Typically, what is RARI used for?
Investors could use this ETF if they are looking to invest in a diversified portfolio of Australian companies that have demonstrated a commitment to ESG factors. RARI tracks the Russell Australia ESG High Dividend Index.
How do I invest in the Australian Responsible Investment ETF ETF?
The easiest way to buy an ETF is through your online share brokerage account. Just search for the ticker code and buy it. The following podcast explains how to buy shares and ETFs for the first time.
Meaning, you can follow the exact same process for ETFs as you do for shares -- both can be purchased in one account.
Australian Investing 101
Don't have a brokerage account for ETFs?
Read our tutorial on understanding how share brokerage accounts work.
Is RARI a good ETF?
We believe that knowing whether or not to invest in an ETF requires a lot of research, even for an ETF like this one. ETFs are long-term investments, so it's important to do the right amount of research into the ETF before you invest, and consider how it fits with your risk profile, strategy and the other investments in your portfolio.
Where you can go to find more research on this ETF:
Reports like this one on the Best ETFs Australia website were built to help you understand ETFs and to provide free access to news and research across all Australian ETFs, index funds and selected managed funds.
This report is the free version of our ETF reserach and it contains general information and should not be considered as a recommendation or personal financial advice. If you want to receive personal financial advice and have someone tailor the ETF research to you, you should speak to a financial adviser.
If you don't want to pay a financial adviser, here's what you can do:
Before doing anything, you should always read the ETF's Product Disclosure Statement (PDS), which should be available on the ETF provider/issuer's website. The PDS explains some of the risks, the fees and other important information.
If you're looking for more free content from us...
Take our free ETF investing course, it's great for beginners. Just click here to enrol and begin learning.
Subscribe to our mailing list, create a free account and access our latest investment reports.
To get our analyst's expert ETF research you can join Rask ETFs. Rask ETFs offers our members access to simple model portfolios, expert research on our top 10 Australian ETFs, easy-to-follow ETF strategies and lots more. It's just $199 to access Rask ETFs. Click here to learn more
Special note for financial advisers:
If you're a financial adviser and you want to receive our analyst research to help you build model portfolios, please register for Rask Platinum Adviser (beta). We're making it free for the first 200 financial advisers.
Free investment report
You should know, we've just asked our top investment analyst to put together a free ETF investor's course and make it available to investors just like you, for a limited time.
Complete with quizzes, checklists, free tools, calculators and step-by-step guides, you can simply click here to access the course.
It's completely free!
No strings attached. Just a great -- and FREE -- online course provided by our expert ETF investing team.
---
Disclaimer: Any information contained in this report is limited to general financial advice/information only. The information should not be relied upon because it has not taken into account your specific needs, goals or objectives. Please, consult with a licenced and trusted financial adviser before acting on the information. Past performance is no guarantee of future performance. Nothing in this article should be considered a guarantee. Investing is risky and can result in capital loss. By reading this website, you acknowledge this warning, having read our Financial Services Guide (FSG) and agree to our terms & conditions available here. This article is authorised by Owen Raszkiewicz of The Rask Group Pty Ltd.
Next stop: financial independence!